We reached Gangtok by road from New Jalpaiguri, where we reached by rail on the Dibrugarh Rajdhani express, which goes via Lucknow, two days a week. We booked tickets from New Delhi to New Jalpaiguri and converted them to boarding from Lucknow. Return tickets were bought from Guwahati to Lucknow, boarding from New Jalpaiguri.
I was travelling AC 1st class for the first time. The cabins were very good and we had a nice journey except that the train's engine developed some problem and had to be replaced hence our train was delayed by 2 hrs. The train which usually arrived early was delayed. We reached at 1:30pm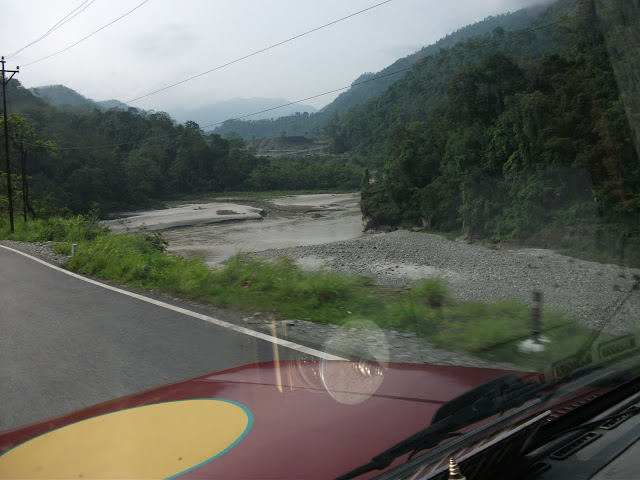 The road trip from the station (New Jalpaiguri to Gangtok) was around 125 km but it took us 6hrs. The road was in a bad condition and at one place, road construction activity held us back by 2hrs. Usually it takes around 4hrs to go from NJP to Gangtok, the road is not very good.
Entrance to Sikkim
The Club Mahindra hotel in Gangtok was not seen on my map my india GPS map and neither was it correctly marked on the google map on the mobile.
We had arranged pick up from the station through Tamu travel and treks. We had to depend on the Taxi drivers. By the time we reached our destination it was 7:30pm.
Checking in to Club Mahindra was a breeze as usual. This property has been leased by Club Mahindra. Hence the hotel did not have that feel which we associate with a Club Mahindra property, but it was a comfortable stay and we enjoyed the food.
Our room
Activity centre

The activity centre was good. It had the provision of borrowing DVDs as well as books, Table Tennis and Carrom etc. Restaurant was pleasant.

- Posted using BlogPress from my iPad