In the morning we got up early and looked out from the balcony to behold a beautiful breathtaking scene. From all the three rooms, we occupied the view was fantastic.
We enjoyed tea on our balcony. And then went down for a leisurely breakfast, to the restaurant. At around 10:45am the taxi came for our one day local sightseeing in Gangtok. We got one Alto and one Wagon R for the day-trip, as SUVs are not allowed for local sightseeing in Gangtok. Our first stop was Ganeshtok temple which wasn't far from our hotel.
After that we went to the Himalayan Zoological garden just opposite the Ganesh temple. And we really enjoyed ourselves there. It was a nice trek as well, as we walked from one huge enclosure to the other.
The red panda
The Tibetan wolf
A viewing tower which we did not climb, near the enclosure for the snow leopard.
There were refreshments available in the zoo and also toilet facilities were there at two places. Weekly off for the zoo is Thursday. The zoo is a must see.
We then proceeded to Tashi point, from where the Kanchenchunga peak is visible. As it was a cloudy day we just saw a few snow laden peaks. The children wore the local dress and we took pictures.
We had lunch at the restaurant near Tashi point. It was average fare. We had momos and chowmein and manchurian.
Next on the itinerary was a monastery, though we decided to forgo that and went on to see a waterfall.
Here Samya did some adventure activity at the waterfall.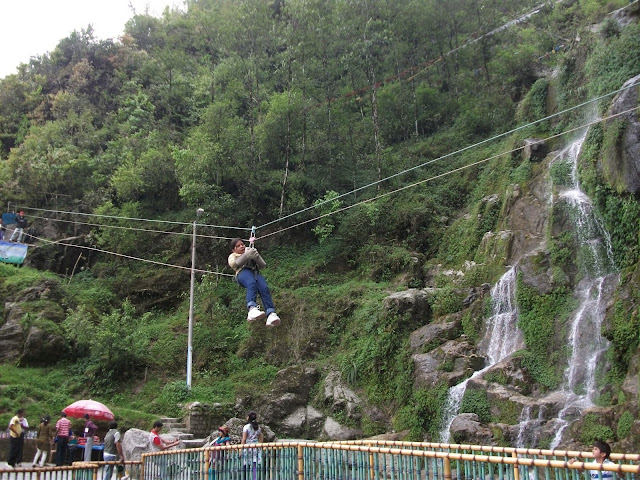 From here we went to see the flower exhibition. It was drizzling by now. This was a lovely place to visit. The ambience was good and lovely flowers too
This photo some how misses the crowds that were present at this sightseeing point. It was really crowded. We also purchased some bulbs of these beautiful flowers.
After the flower exhibition we went for the ropeway which we could easily have missed.
The ropeway was no great experience and certainly not worth the one hour wait.
From here we went to the office of the person who was arranging this trip for us, for the balance payment and to give him the papers regarding issuance of permit for North Sikkim, photo ids etc
We requested the taxi driver to take us to the market as we had to purchase woollens for my son. The main market was closed that day, so he took us to another market, Lal Bazaar . The market was dirty but we found some good shops on the second floor. As we were short of time we shopped in a hurry. In one of the shops we left our handycam behind by mistake!!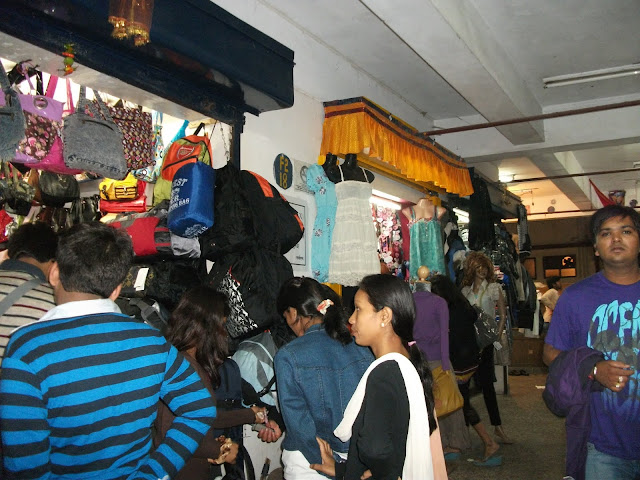 - Posted using BlogPress from my iPad